Ad blocker interference detected!
Wikia is a free-to-use site that makes money from advertising. We have a modified experience for viewers using ad blockers

Wikia is not accessible if you've made further modifications. Remove the custom ad blocker rule(s) and the page will load as expected.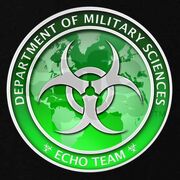 Welcome to the Joe Ledger Wiki
Edit
This wiki will detail events and characters described in the world of Captain Joe Ledger of Echo Team, the fictional hero created by Jonathan Maberry who struggles to save the world his own way working with others under the auspices of the Department of Military Sciences. Readers should note that this wiki contains spoilers for all books!
THE SERIESEdit
Short fiction:
COUNTDOWN (prequel to PATIENT ZERO)
ZERO TOLERANCE (sequel to PATIENT ZERO)
DEEP, DARK (prequel to THE DRAGON FACTORY)
DOG DAYS (sequel to THE DRAGON FACTORY) - available in audio only
MATERIAL WITNESS (crossover - Pine Deep Trilogy)